News & Events
Latest from us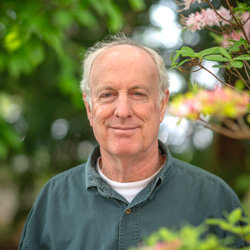 November 16, 2021
Wine and Wildflowers!
The Florida Wildflower Foundation and Florida's own Island Grove Wine Co. are teaming to host a unique virtual fundraiser supporting the Foundation's Pollinator Pathway projects. The event will feature special guest Doug Tallamy, author of Bringing Nature Home. Join us at 7 p.m. EST, Monday, November 29, for this innovative event.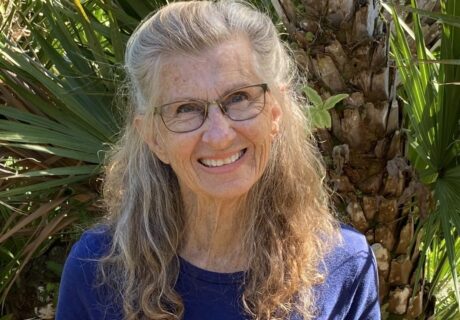 November 3, 2021
Member profile: Neta Villalobos-Bell
For years, Florida Wildflower Foundation member Neta Villalobos-Bell has been passionate about native plants and the value they have for our wildlife. Although not originally from here, Neta feels most at home in Florida. Always inspired by the state's unique biodiversity, Neta delights in tending to her native wildflowers, and is a huge advocate for pollinator pathways connecting resources for Florida's butterflies and bees.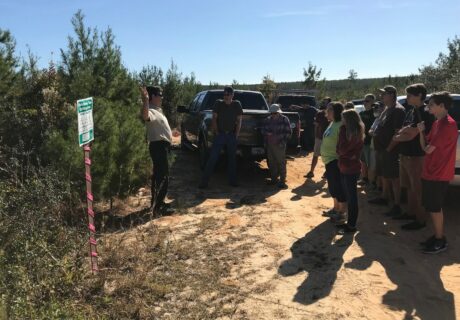 November 3, 2021
Field trip: 2021 Christmas tree cutting
Join the Florida Wildflower Foundation on Dec. 4 for our annual Christmas tree cutting event. Forest Service biologist Liz Ramirez will introduce us to the Ocala National Forest. Learn about how the forest service manages the scrub habitat and why they allow people to cut down trees there. Then we'll caravan to the Christmas tree cutting site, where everyone with a permit will have the opportunity to pick out and cut down their very own fresh-from-Florida sand pine.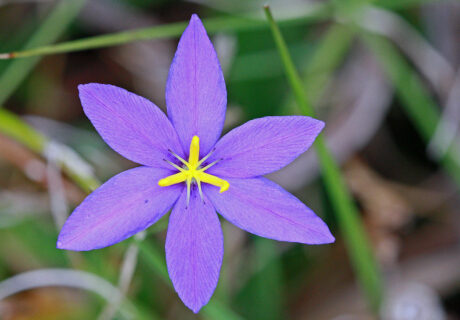 October 8, 2021
Celestial lily
Celestial lily (Nemastylis floridana) is a heavenly wildflower found in wet flatwoods and freshwater marshes and swamps. Its dainty violet flowers bloom August through October and attract mostly bees.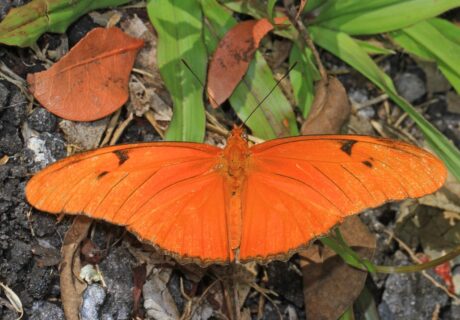 October 6, 2021
Julia
Also known as Julia heliconian and Flambeau (the flame), the Julia butterfly (Dryas iulia) is recognizable by its orange color and elongated wings.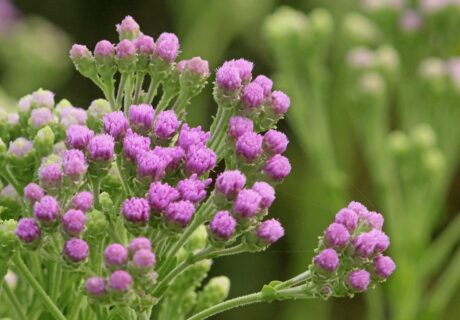 September 30, 2021
Field trip: Split Oak Forest WEA
Join the Florida Wildflower Foundation on Saturday, November 6 at 9am for a tour of Split Oak Forest Wildlife and Environmental Area led by naturalists Mary Keim and Randy Snyder.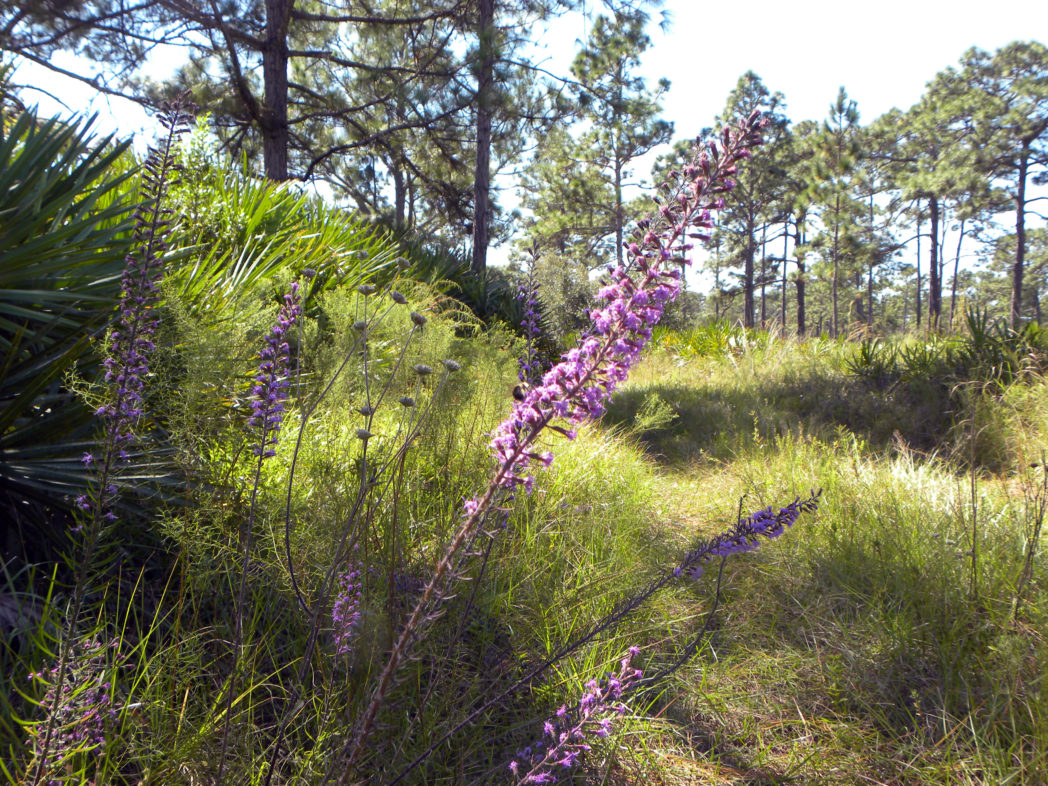 September 25, 2021
Webinar: Life, Death & Wildflowers at Heartwood Preserve
Heartwood Preserve is an environmental sanctuary where end-of-life decisions are made in harmony with nature. Learn about conservation burial, the history of the land and the importance of fire ecology.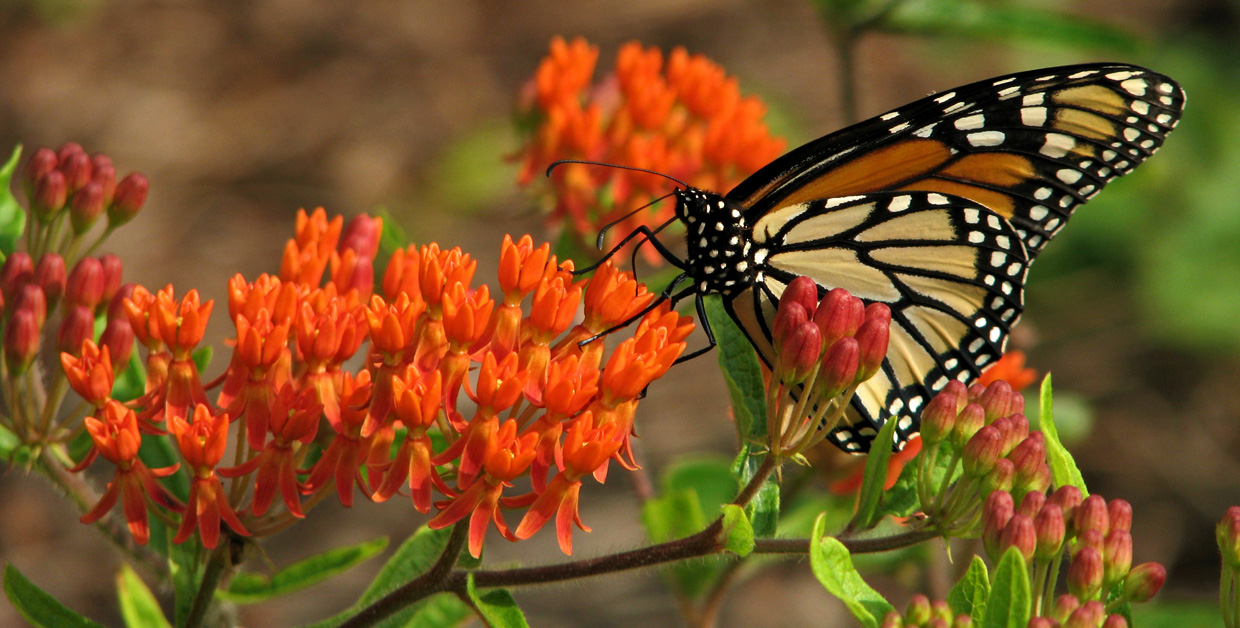 September 23, 2021
Fall wildflowers and grasses feed hungry caterpillars
Keep your eyes open along roadsides for Milkweeds and other fall-blooming larval host plants that are on display right now. Milkweeds are, of course, the host plant for the Monarch butterfly, but there are many more native wildflowers and grasses critical to the survival of our other butterfly species.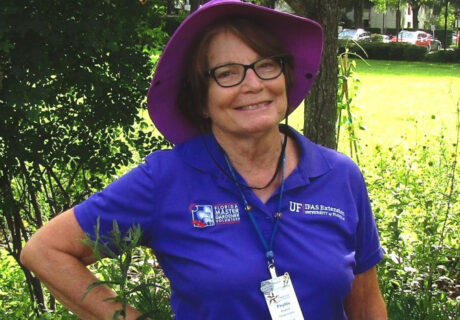 September 1, 2021
Member profile: Phyllis Stopford
A Florida Wildflower Foundation member for more than a decade, Phyllis Stopford is devoted to learning about native plants. The more she learns about the beneficial quality of native plants, the more her perspective grows. "I now see landscapes through a different lens and have redefined my idea of beauty. "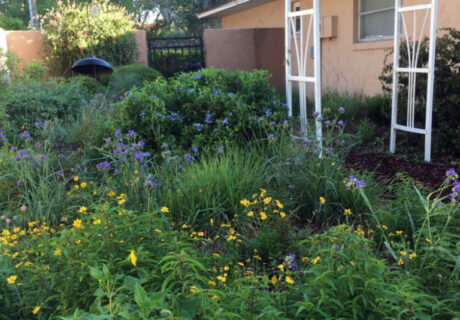 August 31, 2021
Webinar: Why Not Lawns? (Well, I'll tell you…)
Lawns contribute substantially to climate change, air and water pollution, the extinction crisis and many other serious environmental problems. They also cover vast areas of the United States. In this presentation, Dr. Emily Roberson, director of the Native Plant Society of the United States, presents data on the surprisingly large scale of lawn-related environmental damage, as well as costs and labor.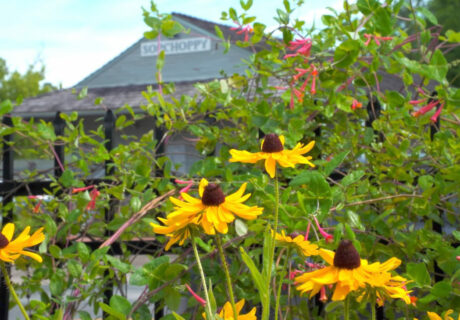 August 13, 2021
Summer news from PWA counties
It is a busy summer and good news abounds for wildflower conservation in Florida's Panhandle area. The Florida Department of Transportation (FDOT) has successfully planted a large wildflower meadow along Interstate 10 near the Sneads exit, the City of Sopchoppy was awarded a Florida Wildflower Foundation (FWF) Viva Florida landscape grant for the Depot Park...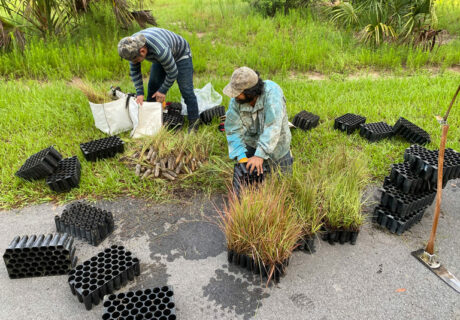 August 5, 2021
Lake County, FWF partner to create pollinator habitat
Bees and butterflies, including Monarchs, have 3 acres of new native habitat, thanks to Lake County Parks and Trails and the Florida Wildflower Foundation, which have partnered to develop pollinator habitat along the multiuse Neighborhood Lakes Scenic Trail north of Orlando.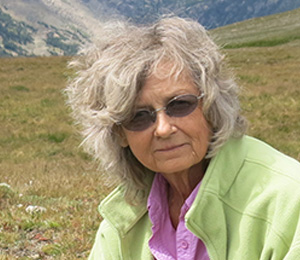 August 4, 2021
Webinar: 20 Easy-to-Grow Wildflowers
In this webinar, Nancy Bissett will present easy-to-grow native wildflowers that attract a variety of butterflies and other pollinators essential to Florida's natural health. Nancy will cover detailed descriptions of each plant, including its flowering, seeding and growing conditions, such as light, moisture and soil needs.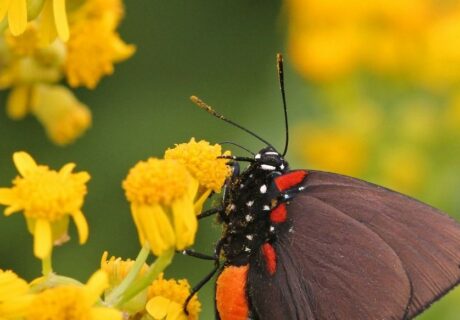 August 4, 2021
Great purple hairstreak
The Great purple hairstreak is a relatively large butterfly that can often be found in oak hammocks, home to their larval host Oak mistletoe (Phoradendron leucarpum). Oddly, Great purple hairstreaks can be identified by the iridescent blue, not purple, on the upper side of their wings.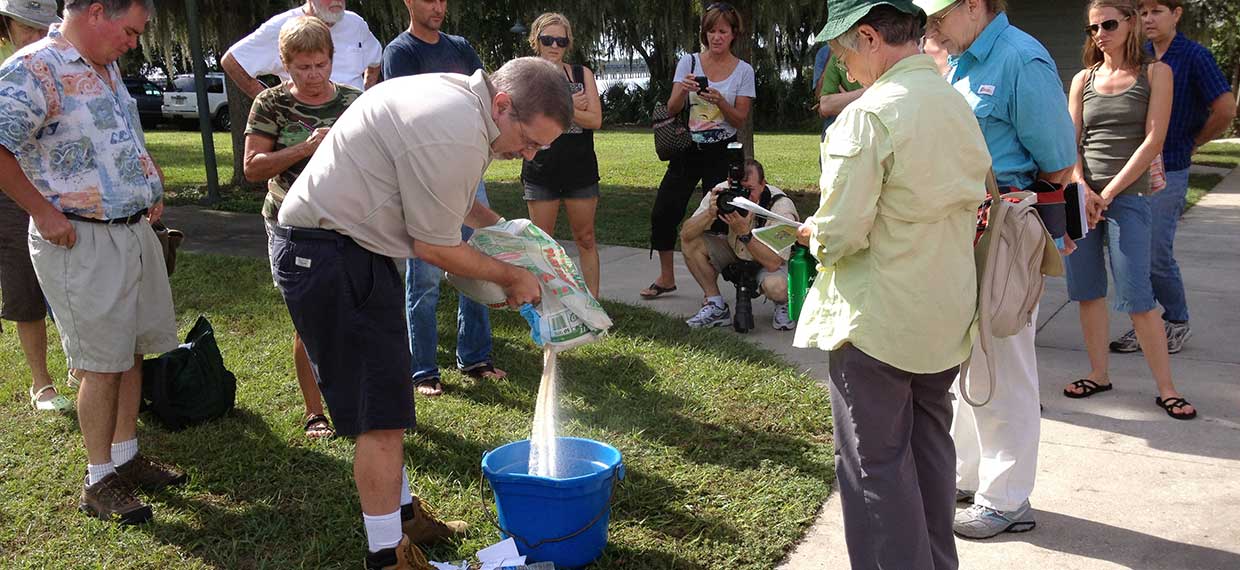 July 7, 2021
Webinar: Establishing a wildflower garden from seed
Fall is planting time if you want to establish a wildflower garden from seed. Get ready by joining us at 2 p.m. Tuesday, July 13, for a free webinar on establishing your own native wildflower garden. Dr. Jeff Norcini, our Research and Planting consultant, will go over key points you'll need to know to tip the scales of success in your favor.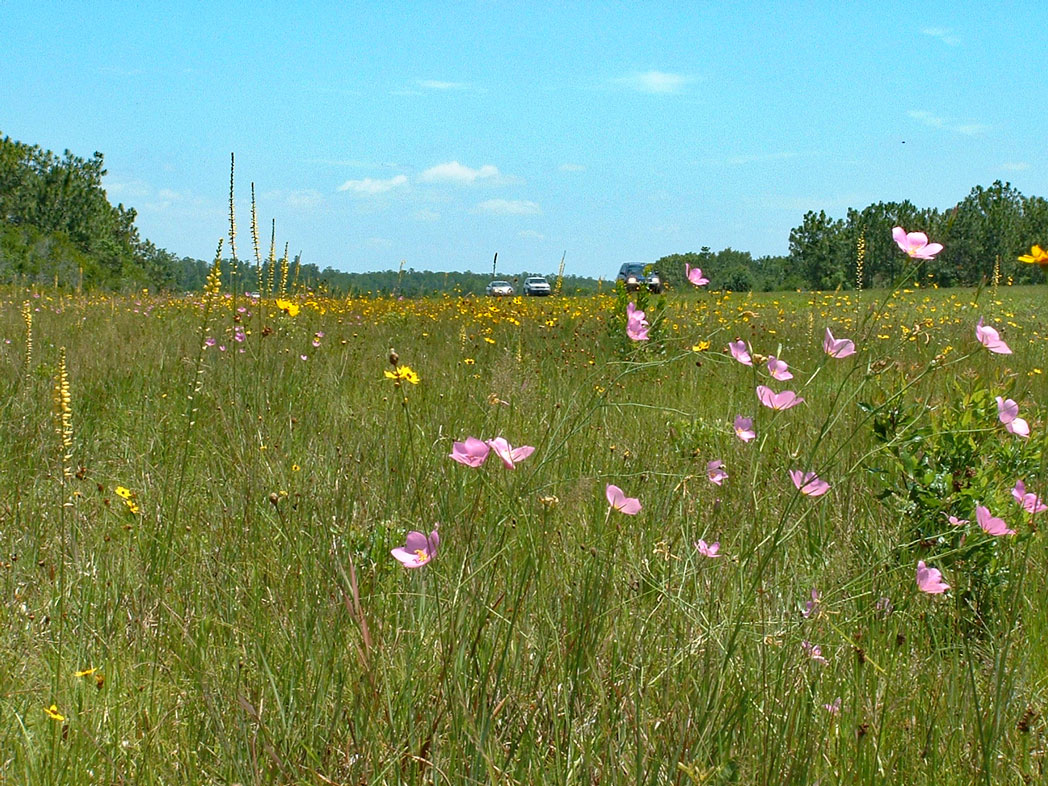 July 7, 2021
Check wet areas for colorful summer wildflowers
Summer offers a wide array of colorful, showy wildflowers in moist to inundated areas, especially in nature preserves along trails and roadside ditches and swales in rural areas.
June 30, 2021
Member profile: Steven Miller
Get to know new Florida Wildflower Foundation member Steven Miller. Steven, founder of a wedding photography company based in Central Florida, incorporates native plants into his business! When he is not taking pictures of people professionally, he is usually snapping pictures of the natural world or filling up his yard with wildflowers.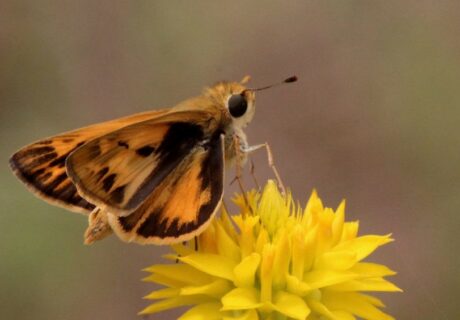 June 20, 2021
Happy National Pollinator Week!
This week, we salute the little things — the pollinators that do our major lifting. Why care about pollinators? Because 80 percent of our food crops depend on them, as does the health of our natural areas, which we depend on for things such as oxygen (sort of vital, right?).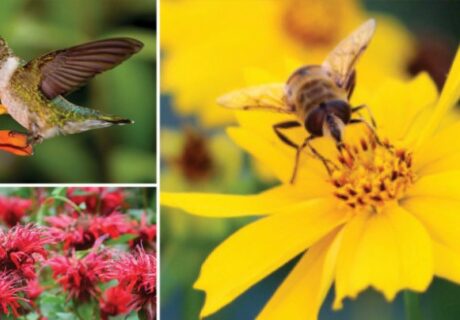 June 18, 2021
Native Plant Gardening for Birds, Bees & Butterflies
Native Plant Gardening for Birds, Bees & Butterflies draws from author Jaret Daniels' experience as an entomologist and native plant gardener. Read our review of the new book.
June 2, 2021
Atala
Florida once teemed with Atala butterflies, but overharvesting of the Atala's host plant, Coontie, caused a drastic decline in butterfly populations. During the mid-20th century, Atalas were thought to be extinct. Now populations are rebounding thanks to the high demand for Coontie in native landscaping.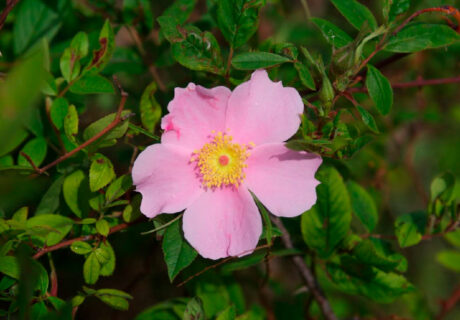 May 28, 2021
Swamp rose
Swamp rose (Rosa palustris) blooms in late spring through early summer and attracts a variety of pollinators — especially native bees. Its fruits are consumed by birds and small mammals.