December 9
@
10:00 am
–
1:00 pm
Ocala National Forest, Altoona
Cut down your very own fresh-from-Florida Christmas tree in the Ocala National Forest.
It's that time of year again! Join the Florida Wildflower Foundation at 10 am on Saturday, Dec. 9 for a fun, family-friendly day in the forest. We will meet in the southern part of Ocala National Forest near Altoona (exact location will be sent out later), where Wildlife Biologist Liz Ramirez will introduce us to the Ocala National Forest and the incredible habitats being managed and restored there. Find out how the Forest Service balances providing resources to the public and conservation of these critical lands.
We'll caravan to the Christmas tree cutting site, where everyone with a permit* will have the opportunity to pick out and cut down their very own fresh-from-Florida sand pine. Stick around and enjoy a hike or picnic in the forest.
This field trip is free for Foundation members** and $10 for non-members. No charge for children 18 and under. Tree-cutting permits are an additional $10 plus $2.50 online convenience fee for both members and non-members. Anyone who wishes to take home a tree will need to purchase a permit online before the trip. Permits are now available to purchase. Please print a copy of your permit and bring it on the day of the field trip. Cutting a tree is not required in order to attend the field trip.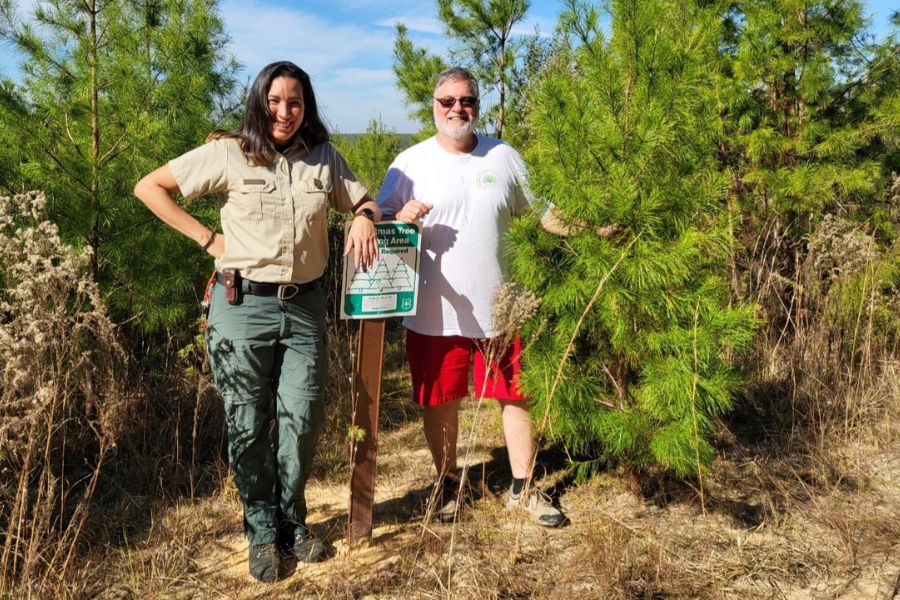 NOTE: Everyone attending will need to register for the field trip. The deadline for registering is December 6th at 11pm. You can purchase permits online up to the day of the field trip.
* A permit is required in order to cut down a tree. Permits are $10 per tree plus an additional fee. Permits can be purchased here. Permit fees benefit the Ocala National Forest programs.
Call 407-622-1606 or email RKinane@FlaWildflowers.org to find out if your membership is current or needs to be renewed. To join as a member, visit www.FlaWildflowers.org/membership.
How to prepare for the day:
Bring a hatchet and/or hand saw to cut your tree. You may also want bring loppers to trim stray branches.
Bring ropes or bungees to secure the tree to your vehicle.
Bring sun protection, drinking water, snacks and whatever else you need to stay healthy and comfortable in the scrub environment. Pack a lunch if you plan to stay and enjoy the forest.
Wear weather- and environment-appropriate clothing. Long pants, a hat and closed-toe shoes are recommended. Bright colors are also recommended, as it is hunting season.
The forest roads are sandy; vehicles will get dusty.
The roads should be fairly solid but may be bumpy. A four-wheel drive vehicle is not necessary.
This educational opportunity is made possible by the State Wildflower license plate. Get yours today!