October 7
@
10:00 am
–
1:00 pm
UF IFAS DeLuca Preserve, Yeehaw Junction FL, 34972 –  SE Entrance Gate
Join the Florida Wildflower Foundation and UF IFAS Center Director Dr. Brent Sellers on Saturday, October 7 at 10:00 am for a guided fall wildflower tour of the UF IFAS Deluca Preserve located in southern Osceola County near its border with Okeechobee County.
We are excited to offer this special opportunity to visit the DeLuca Preserve! Managed by UF IFAS, the focus is on research and conservation. It is not regularly open to the public.  The preserve spans 27,000 acres and is one of the last natural areas of its kind in Florida. The land provides a critical corridor between the Kissimmee Prairie Preserve State Park and the Three Lakes Wildlife Management Area and is a conservation focal area for the Everglades Headwaters National Wildlife Refuge and Conservation Area. It features many natural communities including pine flatwoods, wet prairies and scrub that abound with colorful fall wildflowers such as Liatris, Carphephorus and Pityopsis, to name a few.
Deluca Preserve is located in a remote area, so please be aware of the following:
This trip will include caravanning into the property. All-wheel or 4-wheel drive vehicles are required due to road conditions that include soft sand and wet muck. If you do not have 4-wheel drive but would like to join in someone else's car, email RKinane@FlaWildflowers.org to find out if a spot becomes available.
It is recommended to bring snacks and plenty of water.
Dress appropriately for wet field conditions. Both sunscreen and bug spray are recommended.
While out on the property, there will be no access to restrooms.
Plan to arrive at the meeting point by 9:30 am so that we can start on time.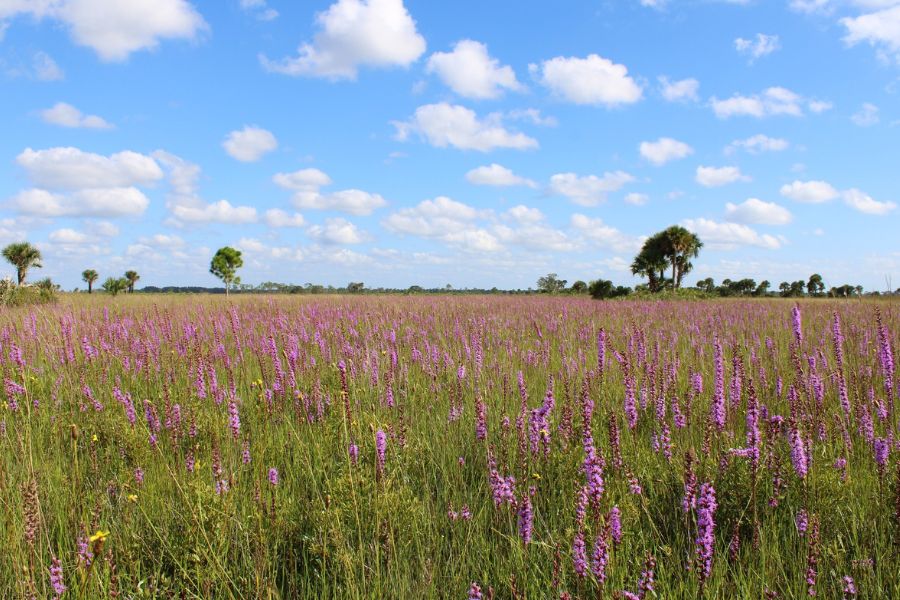 Registration is free for Florida Wildflower Foundation members and $10 for nonmembers.
Call 407-622-1606 or email RKinane@FlaWildflowers.org to find out if your membership is current or needs to be renewed. To join as a member, visit www.FlaWildflowers.org/membership.
This educational opportunity is made possible by the State Wildflower license plate. Get yours today!