The Florida Wildflower Foundation and Florida's own Island Grove Wine Co. are teaming up to host a unique virtual event supporting the Foundation's pollinator pathway projects. The evening will feature special guest Doug Tallamy, author of Bringing Nature Home.
Join us at 7 p.m. EST, Monday, November 29, for this engaging and interactive event.
Hear Doug Tallamy explain why pollinator pathways are so important to bees, butterflies and birds. Learn the role pollinators play in creating wine from Florida-grown blueberries.* And find out how the Florida Wildflower Foundation is building roadside and urban habitat statewide.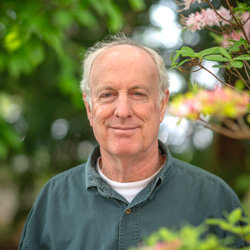 *The event also features a guided wine tasting from Island Grove Wine Co. The deadline to order wine was Nov. 15, however, you can still purchase a ticket to attend this engaging event and to learn what you can do to be part of this important conservation effort.
All proceeds will benefit the Florida Wildflower Foundation.
The Florida Wildflower Foundation is a 501(c)3 non-profit organization; contributions are tax deductible. A COPY OF THE OFFICIAL REGISTRATION AND FINANCIAL INFORMATION MAY BE OBTAINED FROM THE DIVISION OF CONSUMER SERVICES BY CALLING TOLL-FREE (8OO-435-7352) WITHIN THE STATE. REGISTRATION DOES NOT IMPLY ENDORSEMENT, APPROVAL OR RECOMMENDATION BY THE STATE. REGISTRATION#: CHl23l9. Contact us at P O Box 941691, Maitland, FL 32794-1691; 407-622-1606; Info@FlaWildflowers.org.